Cowboy hats for kids are great choice for both casual wear and play. They are available in a variety of styles and quality levels, including those designed to be worn for practical purposes on a ranch or farm, straw styles that make great sun hats, and those ideal to be worn for dress-up costume play. The wide selection of cowboy hat styles for boys and girls makes it easy to find the perfect hat for your child to wear.
Authentic Cowboy Hats For Kids
Just like for adults, authentic cowboy hats come in sizes for kids as well. You can find high quality hats made from the top name brands of western wear at western shops, sporting goods stores and specialty boutiques. In addition, there are many sources for cowboy hats online. Check out the following:
Cavender's
Cavender's is a great site for western apparel. You can find a wide range of hats for boys and girls in styles such as:
M&F Kids Black Felt Cowboy Hat: Priced around $25, this black felt hat is done with a black hat band and black eyelets. It has a four inch crown and an elastic band making it one size fits most.
Double S Girls Pink Sancho Hat With Tiara: This cute cowgirl hat is priced around $25. It is done in pink canvas and features a heart tiara on the front. In addition, it has three white eyelets and a comfortable sweatband. It comes in one size fits most.
Cavender's Pressed Palm Children's Cowboy Hat: Priced around $20, this cowboy hat is made from natural pressed palm. It has a brown and tan stitched leather hat band and brown eyelets. It comes in one size fits most.
Sheplers
Sheplers is known for their great selection of western wear. They feature authentic cowboy hats for boys and girls. You can expect to find high quality hats in styles such as:
Bullhide Horsing Around Cowboy Hat: Priced just under $35, this wool felt hat features weathered painted accents and a leather chin cord. It has a leatherette hat band and comes in a rich dark chocolate brown.
Bullhide Kids' Baby Jane Wool Cowgirl Hat: Also priced just under $35, this pink hat is made from wool felt and has a leather braided hat band. It is accented with pink studs and has stud detail on the sides of the underbrim.
Straw Cowboy Hat Styles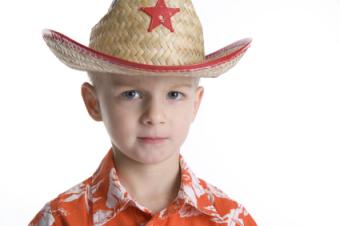 Straw cowboy hats are popular for the beach or to shade yourself from the sun. Straw hats are lightweight making them the ideal choice for warm days. Some straw styles include:
The Wild Cowboy
The Wild Cowboy sells a range of play-oriented cowboy hats for kids ages toddler to teen. Expect to find hats in a variety of prices and styles. Some straw cowboy hats include:
"Sheriff" Child Straw cowboy hat: Made from straw with an inner stretch band for a better fit, this hat comes with its own sheriff star. It also has a drawcord, and it is priced around $36.
Girls Pink Flower Straw Cowgirl Hat: Done in a crochet style, this hat is made from a shapeable straw material. It has a small brim, pinch front and a pink crochet flower hat band. It is priced around $18.
Hat Country
At Hat Country, you can find several styles of straw cowboy hats for both boys and girls. Some popular styles include:
Candy Kisses: From Bullhide by MonteCarlo, this cute hat is made from Mexican palm leaf straw. It features a cattleman crown, pink stitching and a braided brim edge. In addition, it has a matching design on both the crown and brim. This hat is priced just under $30.
Baja Junior Straw Hat: This ivory hat is made from Bangora straw and has all around ventilation. It has a metal insignia tag and a black band. It is priced just over $30.
Costume Hat Styles
What child doesn't like to dress up as a cowboy or cowgirl? Fortunately, there are numerous western-inspired costume hats available at discount prices. You can often find costume hats during the Halloween season at Halloween shops, discount stores and mass retailers. In addition, you can find costume hats at party stores and online year-round. Some costume hats to consider include:
Child Felt Cowboy Hat, found at Walmart, is priced at $6. It is done in black felt is great for a costume or play.
Deluxe Rhinestone Cowgirl Hat, found at Anytime Costumes, is priced around $19. This pink trim hat features a brown cow print and faux gemstones on the hat band.
Fun Anytime Accessory
Cowboy hats are a fun accessory any time of the year. Whether you are looking for a cute costume idea or need to shield your child's face from the sun, a cowboy hat is the perfect choice. There are a variety of hat styles available making it simple to choose the type that you need for your child.