Every little girl dreams of being a Disney princess at least once in their life. They twirl around in their plastic tiaras, singing along to Mulan, Cinderella, and Anna and Elsa. You can help their dreams come true with adorable Disney princess coats to keep warm, cozy, and fashionable!
Elsa Fleece Hooded Jacket
Elsa is here to keep your child warm and cozy in the comfortable jacket. It's light grey with a colorful snowflake pattern and an image of Elsa on it. The glitter snowflakes on this jacket add a fun touch little girls are sure to love. The jacket is made of a cotton/polyester blend and is machine washable. It comes in sizes 2 - 6X for under $25. Pair this jacket with a pair of fitted jeans and a T-shirt for a casual day out.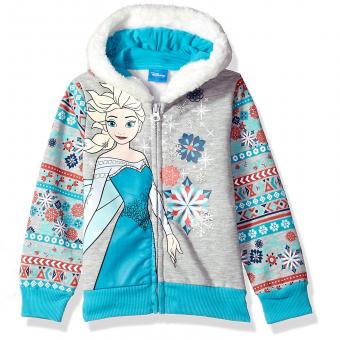 Minnie Bomber Jacket
Everyone knows Mickey Mouse is the king of Disney, which obviously makes Minnie the queen! Bombers are all the rage right now, which will make your mini Disney fan squeal with joy when she sees her favorite character on this stylish sherpa jacket from Target.
The cozy grey bomber has a pop of fun color with the Minnie applique on the back and a varsity style patch on the front. It's made of polyester and is available in sizes 12 months to 5T for under $20.
Elena of Avalor Rain Jacket
No mini princess would turn down Elena of Avalor gear, and this pretty red lightweight puffer jacket is fashionable as well as functional. It's made of an easy-care machine washable polyester and has slide slip pockets. It sells for under $25 and comes in sizes 2-10.
Disney Girls Ariel Fleece Jacket
Is your little girl a fan of The Little Mermaid? This lavender printed fleece, conveniently available on Amazon, shows off one of Disney's most classic princesses, Ariel. It is covered in Ariel prints and features two side pockets, a cadet collar, and a front zipper.
It's best worn on those cool days when she needs to take the chill off. It's available in sizes 2-9/10 for about $23.00-$35.00, depending on your chosen size.
Princess Rain Jacket
Every toddler needs a cool rain jacket, and this pink inspiration available at Overstock is a great choice. It has dark pink sleeves and features three princesses: Cinderella, Belle, and Tiana. You can find this jacket in size 2/3 for about $12.
Rapunzel and Pascal Puffer Jacket
This eye-catching jacket features Princess Rapunzel with her long locks, of course, and her buddy Pascal. Your daughter will love the colorful details. This jacket is fully lined, sells for around $80, and is available in sizes 2-9/10.
Find the Perfect Disney Princess Coats
Ready to win Parent of the Year? It's simple. Just make your daughter's dreams come true with one, or even all of these Disney-inspired jackets. Available in plenty of different styles and weights, your little girl can channel her inner princess while staying warm and cozy, all year long.