The term grunge fashion emerged during the 1990s. Heavily influenced by alternative music bands of that era (such as Nirvana, Soundgarden, and Foo Fighters), the style is all about appearing laid-back, dressed-down, and perhaps even just a little bit dirty. Variations of grunge still reign supreme in the fashion world today, which makes it incredibly easy for girls to adopt the look.
Boy Meets Girl
As many of the rock bands from the 90s were predominantly men, a lot of grunge fashion looks have an androgynous feel to them.
To successfully achieve the boy-meets-girl aesthetic, opt for key utilitarian pieces. Black or blue denim dungarees are a must when worn over a basic white t-shirt, and then simply add a slouchy beanie hat and stompy boots to amp up the attitude.
Double Denim Surprise
Overworn denim jackets are undeniably 90s grunge, especially when teamed with relaxed-fit denim jeans within the same outfit.
Choose a plain, basic sweater or t-shirt to wear underneath for a casual, everyday appearance. Keep the accessories minimal to let your denim pieces stand out and do the talking. (The unwashed, naturally tousled bedhead is optional.)
Leather Glam
Leather is an instrumental fabric of the 90s and puts a glamorous spin on the usual laid-back grunge aesthetic.
Consider rocking it in the form of leather pants to dress up your tie-dye print crop top. Alternatively, use a pair of leather lace-up knee-high boots to add visual intrigue to your outfits. Either way, leather is a grunge staple. You can never have too much of it in your closet!
Camo Cool
To place a military twist on conventional grunge fashion, invest in camouflage print tees and cargo-style pants.
Feel like enhancing the alternative look even further? Opt for a studded belt, studded bracelets, and sweatbands fit for a punk princess.
Skater-Style Plaid
The skater aesthetic is also part and parcel of the grunge fashion movement. Think baggy t-shirts, loose-fitting pants, plaid shirts, and a multitude of diverse hat designs. It's all about wearing clothing that is comfortable and practical enough to skate in.
To achieve the aesthetic, wear a colorful plaid shirt over a neutral-hued, long-sleeved t-shirt or crop top with baggy jeans and chunky sneakers. Don't forget your snapback hat as the finishing touch!
Cute and Comfy
As well as being used to smarten up certain outfits, leather can be used to add a hint of cool to a casual grunge look in the form of a soft, slouchy jacket.
For those chilly wintry days, throw on an oversized knitted sweater over your jeans. Then roll up the bottoms, add a knitted hat, and put on your comfiest multi-colored high-top shoes (like Converse) for cute and cozy cool.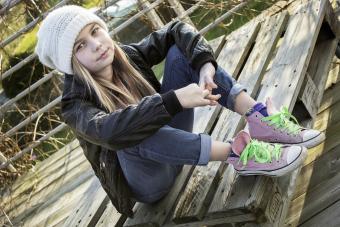 Pretty Goth
Cross motifs were widely used on clothes in the 90s era to create a gothic look.
Grab a tunic-length top with an embroidered cross and pair it with tartan leggings and Dr. Martens-style boots for a pretty yet fierce nod to grunge fashion.
Effortlessly Thrown Together
With grunge fashion, it's quite common for different aesthetics to be thrown together to produce a fun, mismatched appearance.
For instance, consider mixing punk accessories (like mesh arm sleeves) with a rock band t-shirt and a denim skirt over black leather leggings. You can also add a black choker to any of these looks, as they epitomize grunge fashion chic.
Getting the Look
Grunge fashion might have debuted during the 1990s, but it's still extremely popular in today's fashion scene due to the fact that it's so easy to wear. Whether you prefer to pick one key piece and work it into your closet or go full-on grunge with your outfit, make sure you experiment with different options to find out what works best for your personal style. Above all, have fun! After all, grunge fashion is anything but serious.