Boys' Husky Elastic Waist Pants
An elastic waistband offers comfort and ease, allowing boys to dress and undress quickly and get the perfect fit from their pants. However, it can be a bit of a challenge to find this type of waistband in husky sizes. Knowing where to find the best elastic waist pants in every style can help you purchase clothing that will keep him looking stylish and feeling comfortable.
Dressy Elastic-Waist Pants in Husky Sizes
Whether he's wearing them to a special event, a religious service, or as part of his school uniform, there are lots of great options for dressy pants in husky sizes. All of the following feature some type of elastic waistband for a comfortable fit:
Lands' End Boys' Iron Knee Elastic Waist Chinos - With hidden reinforced knees that offer durability and a full elastic waist to provide comfort, it's hard to go wrong with these dressy pants. The cotton and polyester blend is easy to wash and dry, and they come in the classic colors of black, navy, and khaki. Available in husky sizes eight through 20, they retail for about $30.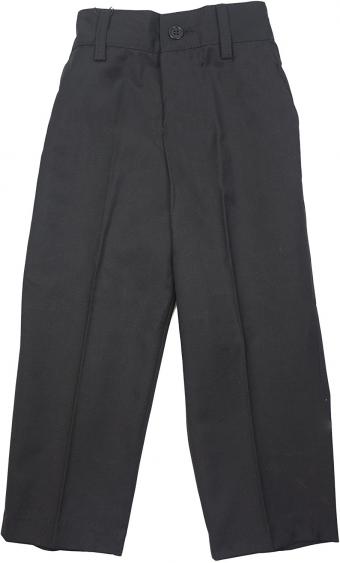 Armani Martillo Flat Front Elastic-Waist Dress Paints - These have a sharp look thanks to the solid front, but offer plenty of comfort with the elastic-waist back. Available in black, navy, and dark grey, they are made from a lightweight polyester/viscose blend and have a soft feel. They retail for about $30 and are sold in husky sizes seven through 16.
Daniel Jacob Twill Pants - These twill dress pants from HuskyFashions.com provide a great combination of fashion and ease. The full elastic waistband and roomy fit will ensure easy movement, while the 100 percent cotton twill fabric and classic navy color will look great at any dressy event. They come in husky sizes six through 20 and retail for just under $50.
Dickies Boys Flat Front Pants - Available in husky sizes eight through 20, these classic dress pants feature a back elastic waistband for comfort. They are constructed from a polyester and cotton blend that makes them easy to wash and dry, and they come in khaki, dark navy, charcoal, burgundy, desert sand, silver, or black. These basic pants retail for about $8-$26 depending on the size required.
Casual Elastic-Waist Pants in Husky Sizes
Cargos and other casual styles are perfect for everyday wear, as well as less formal school outfits. Because they offer an elastic waistband, these styles won't get in his way:
Lands' End Boys' Open-Bottom Climber Pants (pictured) - These stylish cotton pants offer a great combination of durability and comfort. A full elastic waistband provides a great fit, and double-layer knees and reinforced seams mean these pants can stand up to anything your guy dishes out. Four colors are available. They come in husky sizes eight through 20 and they retail for around $32.
Pull-On Cargo Pants - These classic cargo pants from The Children's Place feature a comfy full elastic waistband, plenty of pockets for all his treasures, and an extra-soft stonewashed finish. They come in nine different colors to go with anything, and they are made of easy-care cotton. Available in husky sizes four through 14, they are available for about $10 each.
Boys Built-In Flex Ripstop Cargo Joggers- With a pocket on each side and a tapered leg, these traditional cargo pants from Old Navy are perfect for play or for school. They feature an adjustable waistband and come in khaki. Available in husky sizes L through XXL, they retail for just under $30.
Athletic Elastic-Waist Pants in Husky Sizes
Athletic pants are ideal for sports and rough play. Not only are these options fashionable, but they're functional for husky boys partaking in any kind of activity.
Husky Fashions Athletic Pants

Husky Fashions Athletic Pants - These moisture-wicking navy blue and white athletic pants from HuskyFashions.com are perfect for active boys. They have a full elastic waist and inner drawstring, as well as a loose, easy fit. They are constructed with a soft, pill-resistant fabric. They come in husky sizes six through 20 and retail for about $40.
Boys Tek Gear Piped Tricot Pants: Made with an easy straight-leg style, elastic waist, and piped details on the sides, these pants are easy to throw on for play, sports, or weekend wear. They are available in husky sizes S through XL and come in black with either red, black, orange, or yellow piping. Find them for about $18 at Kohl's.
Boys Mesh Warm Up Pants - The ultimate athletic pant, these warm up pants from Lands' End are manufactured from quick-drying mesh fabric in sizes 10/12 through 18/20. Their vented leg openings have hidden ankle zippers, which makes it easier for husky boys to throw them on and off, and they're also very breathable making them ideal for playing sports. These pants come in navy blue and charcoal, with a cinched waist, and retail at around $32.
Husky Jeans With Elastic Waists
Whether he pairs them with a button-down shirt for school, or his favorite t-shirt for play, these elastic waist jeans are designed to fit husky boys. Try these styles:
Freedom of Movement and Secure Fit
An elastic waistband is a great option for husky boys, since it allows freedom of movement while still providing a secure fit. Fortunately, there are many pants styles to choose from, whether you need to outfit him for a formal event or simply add some great jeans to his wardrobe.