Girls Winter Coats Pictures
Cool and Blue
Perusing girls' winter coat pictures may give you some ideas when it's time to shop for this cold weather necessity. Depending on where you live, lightweight coats may get you through much of winter, or you may need heavy coats on top of many layers to keep girls warm.
You'll find lots of practical coats that work for everyday, but you'll also find dressy coats and vibrant coats for funky personalities.
Look through these girls' winter coats pictures and see which would be perfect for your little girl this winter!
Don't Forget Accessories
A black and white scarf pairs beautifully with this soft pink, lightweight coat. You may find it necessary to outfit a girl with more than one coat; a light one works for days that are more cool than cold.
All About Red
Heavier coats are perfect for freezing days. Bright red makes for a cheery coat, while red stripes on a hat coordinate this look nicely.
More Girls Winter Coats Pictures
Toggle buttons pair with a cool green color to make this winter coat a hit. The thick material on this coat is sure to keep a girl warm, whether she walks to school or plays on the playground.
Lots of Color
If your girls love color, take full advantage of all of the colorful coats on the racks. Slipping into a garment this vibrant and bright will keep the winter doldrums away.
Or Spots of Color
Even a coat in a basic color like chocolate can be livened up with bright red accessories like this hat and gloves; a brightly patterned scarf adds even more visual interest.
Long Coats
You'll find girls' winter coats in all lengths, including longer styles that are made to keep her legs as well as her arms warm. Details like faux fur interiors and cuffs jazz up simple coats. This is a great coat to wear on super cold days.
Pretty Polka Dots
Finding coats with patterns is always a treat. Bright white polka dots sit on top of a black background. This coat is accented nicely with a bright pink hat and hoodie.
The Stylish Girl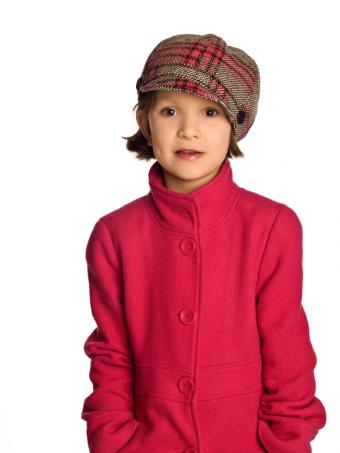 A deep pink coat with slim lines is topped with a coordinating cap. This look is full of personality and perfect for the girl who knows exactly what she wants to wear.
Need more winter coat ideas, especially for boys? Take a look at boys' winter coats to see what coats boys are wearing right now.