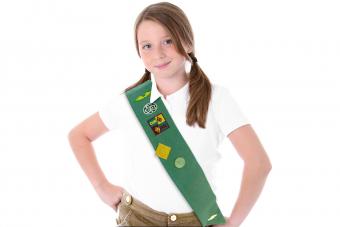 Girl Scouts is a wonderful organization to get your daughter involved in. Girls learn so much about the world, how to be independent, and the importance of helping others. With all the various costs included as part of the activity, it's nice to save money on discounted Girl Scout uniforms.
Buying New Girl Scout Uniforms
The official Girl Scouts official online store is the only places that offers official new Gir Scout uniform shirts. They also offer necessities that your daughter will need for camping and various activities. You can visit their sale section online or find a store near you that can check for regional sales.
Girl Scouts are no longer required to wear the full dress uniform for most events. Rather, the standard uniform now consists of a white shirt and khaki trousers. All she needs in addition is her pin, sash, or vest - one of which is required - and she's ready for scouting.
Retail Shops
The most inexpensive places to find these pants and shirts would be your local and online discount retailers. While you can turn to consignment or secondhand options for the khaki pants, it's best to purchase the white shirt new since they stain much quicker. To compare pricing, the official white polo shirt from the Girl Scout store is $15.00. They do not currently carry khaki pants. You can find inexpensive uniform pieces at these stores:
Saving Money on Used Girl Scout Uniforms
There are various ways to acquire the uniforms for a discount, or even for free.
Shop Secondhand
Searching secondhand or consignment shops can still yield uniforms in good condition, but it's a gamble, and can be time consuming-so keep that in mind. Every city has their own unique secondhand or consignment stores, but there are some that are national as well, such as Goodwill and Salvation Army.
Buy Used Online
Try eBay to find white shirt and khaki pants for scouting. Search options enable you to focus on price, type of uniform, color, and size, making your searching experience much easier. OfferUp and Facebook Marketplace are also great options for finding used uniforms from sellers that are local to you.
Arrange a Local Uniform Swap
Scouting is a community activity. What better way to get discount Girl Scout uniforms than by reaching out to the community? Traditionally, there has been an exchange available, whereby outgrown or otherwise cast-off uniforms are available to new Scouts either for free or at a steep markdown. Your local Scouting council should be able to advise you. This works best for new Brownies; those graduating into Juniors have no need of their old uniform and it's usually still in perfectly wearable condition.
If there isn't a scheduled swap, you can easily organize one yourself by speaking with your troop leader before your first meeting and reach out to the outer moms to get involved.
Buy During 'Off' Seasons
Girl Scouts typically runs during the same time of the year that the kids are in school. Because some items Girl Scouts wear serve double-duty as school uniforms, early summer is a great time to look for them for the upcoming year for your daughter. Stores are trying to get rid of old uniforms in preparation for new ones; they may sell those in stock for 50 percent off, or more in some cases.
Post 'Wanted' Advertisements
Sometimes all you need to do is put it out there that you are on the market for Girl Scout uniforms and you will find people willing to sell uniforms cheaply - or even give them to you for free. Post the white shirt and khaki pant sizes on Freecycle, local paper or paper's website, or Craigslist.
Check Your Local Paper
In addition to advertising your needs in appropriate media or online outlets, also check these local resources for other people's postings. You may discover that people are trying to give away or sell old uniforms the same way you are trying to attain them.
Garage Sales
Typically, people almost give their old things away during a garage sale, so this is a perfect opportunity to scout for unwanted uniforms. You can search using the website Garage Sale Finder, which will guide you to search for garage sales by location and type. You can even see pictures of what will be sold so you will know if there will be uniform items available.
Speak With Your Troop Leader
If you have tried all the options listed, and aren't having any luck finding what you want in the size that you need, or if prices are still over your budget, speak with the Girl Scout troop leader. She will likely be happy to supply you and your family with any resources she knows about.