Ideas for Boy's Easter Clothes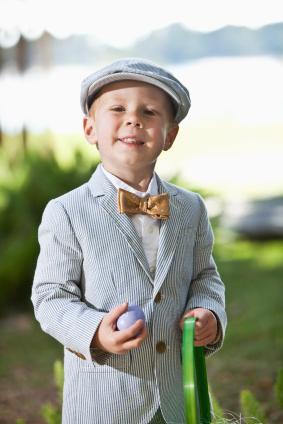 While in past decades most boys were dressed in suits for Easter complete with dress shoes, hats and ties, today there are more options to consider. Easter fashions for boys can be found in dressy, casual and even formal styles.
Dressy Easter Suits
You can't go wrong with a lightweight spring suit for a dressy Easter look. To really put the finishing touch on a suit, choose a great necktie and coordinating shoes. Suits are perfect for boys who take part in Easter programs, but are just as appropriate for attending worship service. If you choose to go with a dressier look such as a suit for your little boy this spring, consider the following looks:
Seersucker Suit
A seersucker suit is ideal for Easter. This style of suit is done in a light material with a soft stripe. The look of this style suit is perfect for church or an Easter party. To add a special touch, pair a light green or bright yellow dress shirt or tie under the suit. Some seersucker suits include:
Linen Suit
A linen suit is lightweight enough to be comfortable during warm spring weather and can also be worn into the summer. Tan and white linen suits create a nice fashion statement for the Easter holiday. Some linen suits include:
Casual Easter Clothing Ideas
Casual Easter outfits can be more comfortable for family gatherings and Easter egg hunts. Casual outfits can also be worn for school picture day, birthday parties and other events. Some casual pieces for Easter are:
Sweater Vests
A simple sweater vest with a v-neck can be worn over a white dress shirt or a white tee for a preppy look. This cute combo pairs well with dress pants or khaki pants. Sweater vests comes in styles such as:
Khaki or White Pants
Light color pants such as khaki or white are casual but dressy enough for most occasions. You can pair these with a nice polo or striped shirt in spring colors like green or yellow. Some pants to consider include:
Easter Tees
Nothing can be more appropriate for a casual Easter look than a t-shirt done with an Easter theme. Some tees to check out include:
Formal Easter Attire Ideas
Formal wear may not be the most practical Easter attire for boys, but it can be ideal for photos and special occasions during the season. Some formal options include:
Sailor Suit
A sailor suit often comes with a crisp navy blue dress coat adorned with with gold embroidery and nautical designs, dressy white pants, a white dress shirt and navy bow tie to complete the look. Some sailor suits to consider are:
White Tuxedo
A white tux with a pastel shirt looks good on all young boys. Tuxedos can purchased online at sites such as:
Celebrate Spring
Boys can celebrate Spring and Easter in a variety of fashionable clothing. Whether you choose a suit and tie or a casual shirt and pair of khakis, your little boy is sure to look stylish and in-season. Stay away from the dark, heavy winter fashions and embrace a soft, light look that is ideal for the Easter holiday.