1910 to 1919 Kids' Fashion
The most radical changes were in women's wear, but 1910 to 1919 kids' fashion is characterized by a shift towards clothes more specifically for children than ever seen in history
Popular Kid's Fashions From 1910 to 1919
While a move towards less restrictive children's clothing had begun towards the end of the Victorian era, this was the decade in which clothing for both genders began to move towards modernity - a move that was heightened and quickened with the outbreak of war in 1914.
Edwardian stylings still saw little boys wearing dresses or smocks with ruffles, as well as having longer hair. Up until a certain age, boys and girls could look a lot alike. The children of the wealthy predominantly wore only white, with little variation. While white continued to be the color of choice for small children, denoting their innocence, 1910 saw a wider range of colors appear in children's clothes.
Fabrics changed as well. Girls abandoned delicate muslin for pattern and gingham checks. Sturdier fabrics like these allowed girls to play with more abandon.
Boys too were allowed more freedom, with suits that included knee-length trousers. Both genders were now looking less like small adults and more distinctively like children.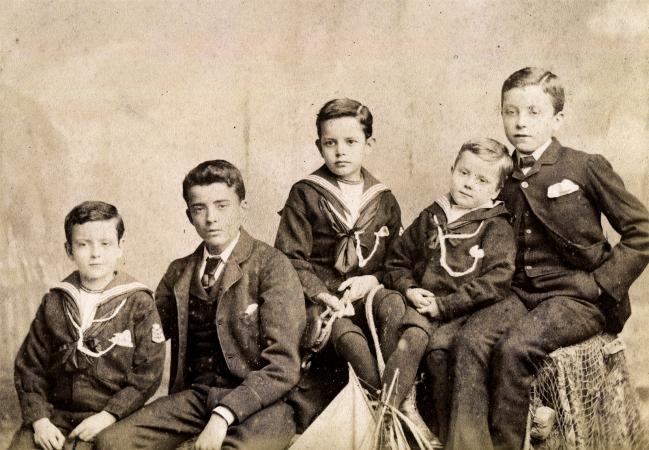 The Sailor Suit
The classic sailor suit became popular for boys' wear in the mid-19th century. With the Royal Navy having done so much to enhance the power and wealth of the British Empire, everyone's clothes reflected some military stylings, but boys' suits in particular. By 1910, they were predominantly worn by younger boys as their main outfit. They might have a better sailor suit for special occasions, but this was what they wore until adolescence.
Girls began to wear sailor suits as well. They are the defining garment for 1910 to 1919 kids' fashions, despite having been popular long before.
Knitted Garments
While knitting dates back centuries, knitted garments were either underwear or small accessories. But another important designate of 1910 to 1919 kids' fashion is the emergence of knitted jerseys and dresses, as well as hats and mittens. A good knitter could make a child's sweater in a few days - almost as quick as sewing but with less fitting required. The result was a smart garment that was warm, would wear well and was bright and comfortable.
Knitwear began to be part of manufactured clothing, being cheap and easy to construct and even easier to care for. It can be said that the 20th century, in so far as children's clothing is concerned, really began with the growing popularity of knits.
Wartime Restrictions Prompt Changes
While the first world war did not prompt the kind of rationing we associate with the second, the effects of the war were still widely felt. Everyone's clothes became more somber and severe. Girl's dresses were cut shorter and there was far less adornment, thanks to material rationing. Socks became shorter as well - both boys and girls were now wearing socks that came up to mid-calf and these were gradually moving towards the ankle.
Boys' suits saw more overt military details and girls' dresses became looser and more practical. With everyone being so busy, and even the wealthy having fewer servants, the new simplicity in children's clothes meant there was less need for constant washing, pressing and mending.
Another major change to girls' appearance that promoted comfort while adhering to the restrictions was the shift towards ribbons for dressing the hair, even on special occasions. By the end of the decade, virtually all girls wore their hair short and decorated with one or two large ribbons. Hats might still be worn for Easter, but a 6-inch ribbon could cover the head just as well.
Clothes Just for Kids
While the shift towards clothes that were specifically for children had been ongoing, it was this decade when it became decisive. Children's clothes no longer looked like smaller, shorter versions of adult wear but were something especially for the younger set. It is no wonder that when people now become nostalgic for a certain style of children's clothing, it is for those of this decade.